Professional Quad Bike Courses and ATV Training:
Appropriate ATV and Quad Bike Training is required under PUWER for any operator who is expected to ride on or in an ATV as part of their job.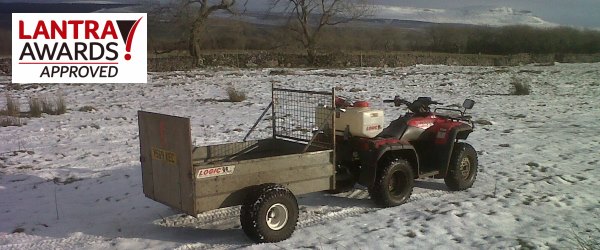 At Lake District 4×4 we offer Lantra-Awards Quad Bike and ATV qualifications, covering riding over a variety of terrain, common risks to operators and the use of trailers, including manoeuvring techniques. Both the Sit-In and Sit-Astride ATV training courses are available, we can also provide training in preparation for City & Guilds (NPTC) assessments where requested.
Based at our venue only 10 minutes from the M6, our ATV & Quad training site in Cumbria allows courses to be undertaken in realistic environments covering fells, farmland, forest, rock, grass, mud and industrial terrain. Our 300 acre LANTRA approved training site includes full conference facilities and classroom training, while involving ATV riders and Argo drivers in real situations on their vehicles, rather than training on synthetic or man-made courses which never manage to re-create a true environment.
Where clients would prefer training to be run on-site from their venues, we provide quad bike and ATV trainers across Cumbria, Lancashire, Yorkshire and the north-west. The instructor will come to your site to train your staff on the machines they will be using, in the environment they will encounter day to day.
Contact us for more information: